The Right Fit, Right from the Start
It's true that we've fit some of the top cyclists in the country. But you don't have to be a professional to enjoy the benefits of a precision bike fitting at Whole Athlete. The right fit can increase your power, leverage your strengths as a cyclist, help you descend and corner with confidence, and accommodate any injuries or limitations you may have. Even if you're new to cycling, you'll experience a new level of riding enjoyment with a bike position that's biomechanically optimal and uniquely yours. We are located in the San Francisco Bay Area and work with cyclists of all levels.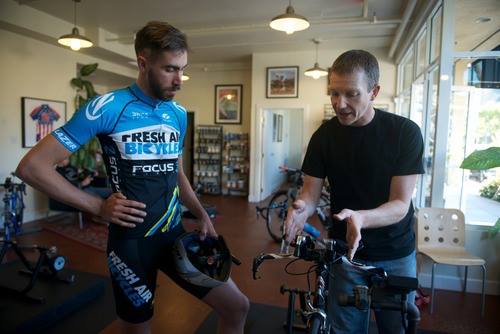 Our Credentials
Dario Fredrick has nearly 20 years of bike fitting experience with cyclists of all levels, as well as over 20 years of experience teaching Iyengar-based Yoga. His knowledge of riders and bodies is complemented by a Master's degree in applied exercise science that also includes formal biomechanics training. Dario is an avid cyclist himself (road, MTB, gravel, adventure…), and understands proper fit from the inside out.
John Hunt first started fitting bikes in 1989, originally trained in the Serotta Fit Kit method and designing custom bikes using the Serotta Size Cycle. His own first custom bike was built in 1992, and he has been designing bikes ever since. John's approach to bike fitting is steeped in a deep wealth of personal knowledge and experience, allowing him to effectively address injuries through proper fit, while balancing comfort and performance. His knowledge base continues to grow as he stays current with bike geometry trends and fit-related product changes.
"Dario was very thorough in getting my road bike configured properly. I needed adjustments to saddle height, set back, cleat, pedal washers on one side, and handlebar angle adjustment. The price is very reasonable considering the duration (2.5 hrs). Dario is professional, kind, and extremely knowledgeable. Even as a non-racer, the fitting was very valuable and I am thankful to have had such an experienced mind and set of eyes to help adjust my bike. I look forward to the custom designed frame!"
–Luke P.