Bend Gravel Extravaganza
June 21-25, 2023
Join us in 2023 for a gastronomic gravel adventure as we welcome nationally recognized executive chef Matthew Accarrino to the Bend Gravel Extravaganza Team. Spend four days and nights in beautiful Bend, riding some of the best gravel routes Central Oregon has to offer. Stay in deluxe accommodations, enjoy gourmet meals by Chef Accarrino, and experience fully guided and supported epic gravel riding. Let our professional mechanic care for your bike at the end of each day while you enjoy a gastronomic feast, relax, and partake in the legendary microbrews of Bend.
Pricing: $1950/ person single occupancy. $1599/ person double occupancy. Option to add additional night for early arrival on June 20 (+$125/ person).
How to Reserve your Spot: A $500 deposit is required to secure your place, but space is limited so sign up now! Remainder is due by March 1st, 2023. Please contact us at office@wholeathlete.com with any questions or for more information.
What's Included: Accommodations, airport transfers to/from Bend/Redmond Airport (RDM), all meals, fully supported rides, daily bike cleaning and tuning by our professional mechanic, and a ton of fun.
Not Included: Travel to/from Bend, travel insurance (recommended), equipment, alcohol, gratuity.
Cancellation Policy: $200 fee with refund until March 1st, no refunds thereafter. We highly recommend purchasing trip insurance.
Airports: The Bend/ Redmond airport is most convenient and we will provide airport shuttle to and from the guest house (located in Bend near Farewell Park). Second option would be to fly into Portland and rent a car.
Bike Recommendations: We recommend a gravel/ CX bike with high volume off-road tires (700c x 35 minimum or 650b x 1.9″) or an XC mountain bike with fast rolling tires. Low gearing (e.g. 34 x 36 or lower) is always helpful for the various climbing, much of which will be at >4000 ft. elevation.
Bike Transport: If you prefer to avoid traveling with a bike, you can ship your bike to Bend using Bikeflights.com (contact us for more details). We can also help arrange shipping the bike back to you at the end of the trip.
About Your Trip Hosts: John Hunt has been coming to Bend as a bike racer in the Cascade classic since 1995. In his early years of racing the road, he was always drawn to ride the off-road trails and roads of Central Oregon. In 2010 he finally traveled to Bend with a mountain bike, and after that he was hooked. John has been exploring the myriad dirt roads and trails by gravel bike and mountain bike every year since. Dario Fredrick first visited Bend in 1999 with his mountain bike and has become a regular since. After discovering more of the incredible trail networks participating in two editions of MTB Marathon Nationals, soon after he was introduced to the vast expanse of dirt and gravel roads on a gravel bike. His exploration of the off-road riding in Central Oregon and immersion into the welcoming, bike-friendly atmosphere of Bend have inspired him to share his experiences with others seeking like-minded adventures. A long-time Whole Athlete coach, Adam Waskow developed his love of gravel riding in the hills of Marin County, and soon discovered the draw of Central Oregon's mighty gravel road network staffing the BGE 2019. His attention to the quality of the guests' experience and boundless sense of humor adds a unique and valuable element to our staff. John, Dario and Adam each share a love of the town of Bend, the mountains, and most of all the gravel riding. Josh Snead brings over 15 years of professional experience as a top-notch mechanic, having worked for both professional road teams and the Whole Athlete Junior Development program through much of the decade of its successful 10-year run. Thanks to Josh's fastidious and professional approach, you can expect your bike to be as clean as the day you purchased it every day of the trip! Matthew Accarrino is the nationally recognized executive chef of SPQR in San Francisco. Born in the Midwest and raised on the East Coast, he moved west to California in 2007. He had originally hoped to become a professional cyclist until a leg injury turned his passion for cooking into a career. Matthew's unique culinary style draws inspiration from his Italian heritage, personal experience, and classical training with some of America's best chefs. In the kitchen Matthew, takes full advantage of the bounty of opportunities California ingredients present. This includes a strong belief in direct sourcing, producing, and at times playing a role in the creation of his ingredients. The result is an intensely personal cuisine that is both technically polished and soulful; and which has garnered critical praise. Under his direction, the restaurant has been awarded a Michelin star for seven consecutive years. He has been nominated five consecutive times for the prestigious James Beard Foundation Award for "Best Chef: West." Food & Wine Magazine named him "Best New Chef" in 2014. Matthew co-authored and released his first book, published by Ten Speed Press – SPQR: Modern Italian Food and Wine – in October 2012. When not in the kitchen you can find him out on his bike riding and racing. He also cooks for cycling teams and has served as the chef/consultant for the Tour Of Utah since 2016.
Itinerary (subject to change):
Day 1 (June 21) – Arrive in Bend midday and transfer to the guest house where lunch awaits. Prep bikes for an afternoon ride and enjoy a mellow singletrack and gravel jaunt to whet your ride appetite for the coming days.
Day 2 (June 22) – Enjoy a big breakfast then a big ride day to the north, taking in some of the lower slopes of the Cascades, on mostly gravel roads up to the town of Sisters where the sag vehicle and mid-ride lunch will be waiting. Finish the ride back at the Bend guest house and relax while your bike is cleaned and dinner is served. Enjoy an outing to the Recharge Recovery Lounge for some proactive recovery time with Normatec massage boots, hot and cold tubs and more.
Day 3 (June 23) – Fuel up with breakfast then shuttle up to the town of Sisters where a beautiful northwest loop along the Metolius River awaits. Mid-ride lunch will be provided, then a post-ride visit for some local Sisters coffee or microbrew prior to shuttling back to the Bend guest house. Relax and enjoy a well-earned gourmet dinner, then outings to Recharge and local microbreweries.
Day 4 (June 24) – Enjoy breakfast then our last big ride day where we'll head to the southeast from Bend this time, taking in some of the stunning buttes with amazing views of the Cascades. Lunch awaits at the midpoint of the ride, then back to the Bend guest house for more relaxation and gourmet dining pleasure. Evening outing to local microbreweries to celebrate.
Day 5 (June 25) – Final gourmet breakfast then transfer to Bend airport/ departure day.
Route Plans: Rides range from 25-65 miles, with Days 2-4 averaging between 4 to 5 hrs moving time, always with the option to hop in the sag van at any of the support stops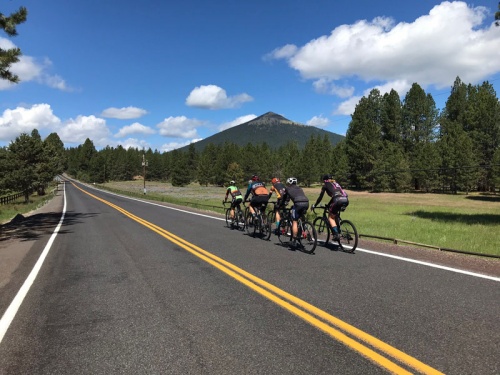 "Happily, my wife and I were able to attend Whole Athlete's inaugural Bend Gravel Extravaganza. Four fun filled days of riding gravel, singletrack and of course the hero's decent back into town on asphalt. Dario assembled a lovely mix of rides that were challenging enough for the fittest in the group, yet offered tamed down versions should one desire. We were treated like pros. We dined together on gourmet food in a group kitchen setting, swapping stories (which may or not be rooted in truth), while our bikes were being washed and serviced for the next day's adventure. To aid in our recovery, we made a couple visits to the Recharge Recovery Lounge for a session in NormaTec massage leg boots and dips in ice baths. If you are into gravel, put this camp on your bucket list. It will truly exceed your expectations." –J.H.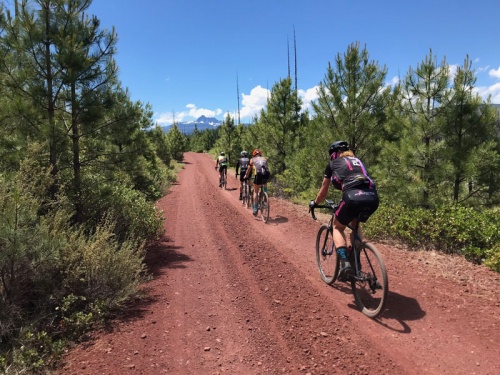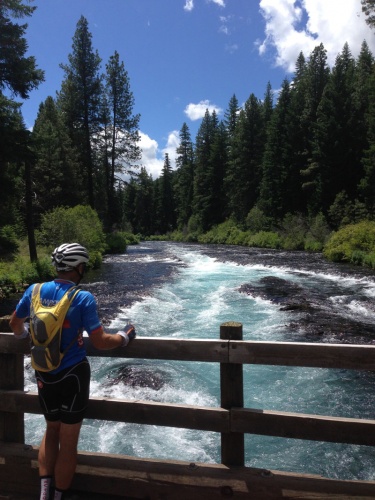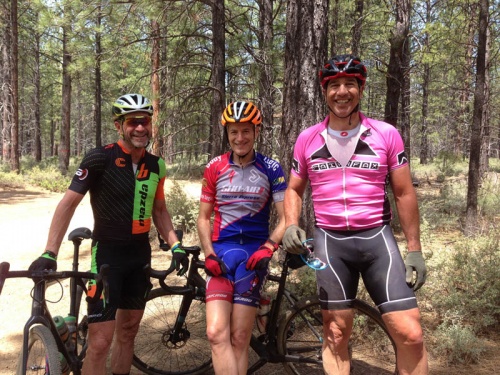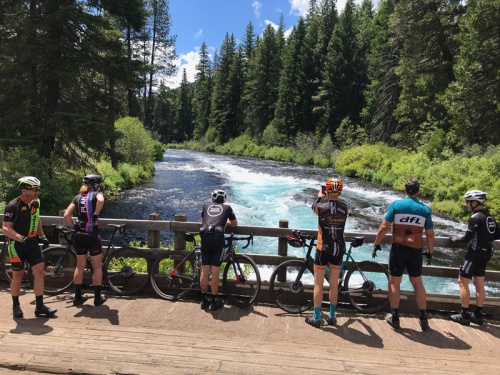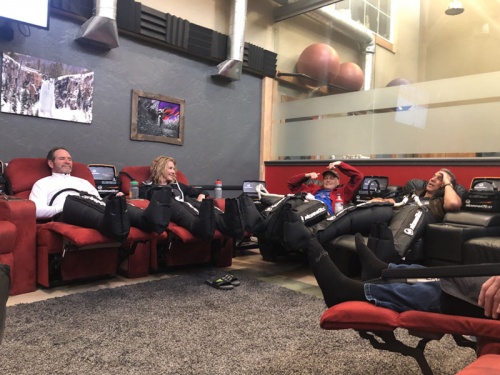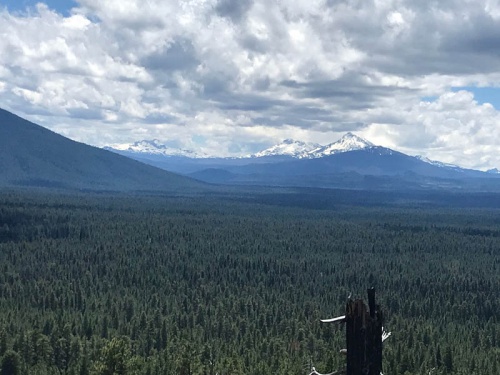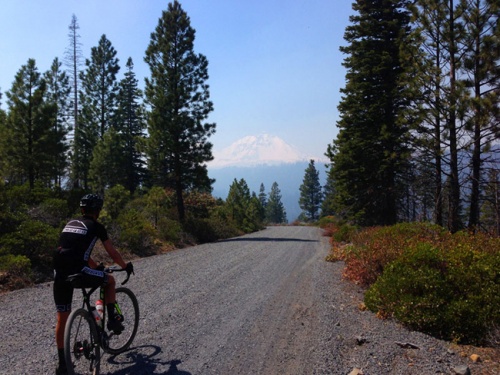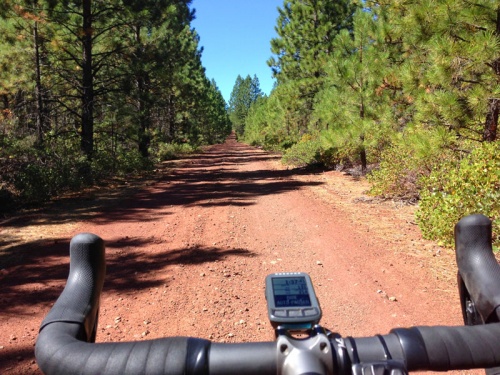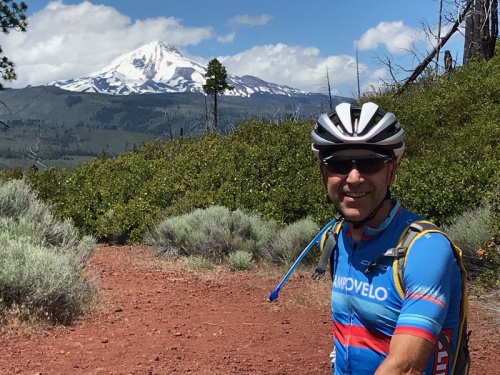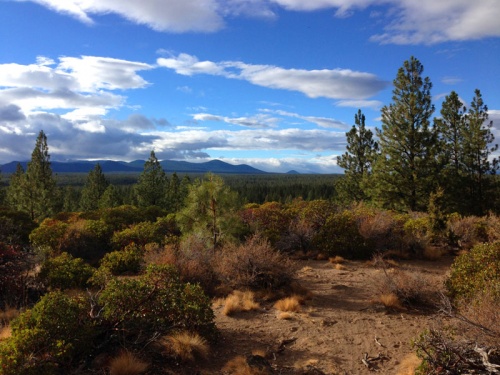 "One of the most important aspects of a bike vacation is the riding/ routes, and the focus of the Whole Athlete Bend Gravel experience didn't disappoint! The terrain varied every day and their team delivered on their superb customer service…..a clean bike every morning!"
–R.A.
"I thoroughly enjoyed the Bend Gravel Extravaganza in 2019! The riding in Bend was awesome, as expected, Dario did an amazing job planning out every aspect of the trip. Going to the "Recovery Lounge" was great and something I had never tried before…And having my bike professionally cleaned and tuned up after every ride was an amazing experience!"
–R.K.